What parents and carers need to know
Below is a link to the latest advice and guidance from the NHS:
FACE COVERINGS
From 24th February 2022, face coverings are not required at JQA. We recommend that students who use public transport should continue to wear them whilst on board and respect the wishes of any student or member of staff to continue to wear a face covering at the Academy.
Parents/carers of students who use public transport should ensure their child has a face covering before leaving the house.
NO ISOLATION
From 24th February 2022, there is an end to contact tracing. Students who live with someone who has tested positive for Covid-19 can continue to attend the Academy.
but IF YOUR CHILD TESTS POSITIVE…
If your child tests positive using a PCR test or feels unwell and has Covid-19 symptoms, you call the Academy. There is the opportunity to end isolation as early as Day 6 after two consecutive negative lateral flow tests on Day 5 and the morning of Day 6, before returning to the Academy on Day 6. The Academy will be able to confirm these dates with you. Your child will need to have two consecutive negative tests to return earlier than after the standard 10 days. Please see the diagram below: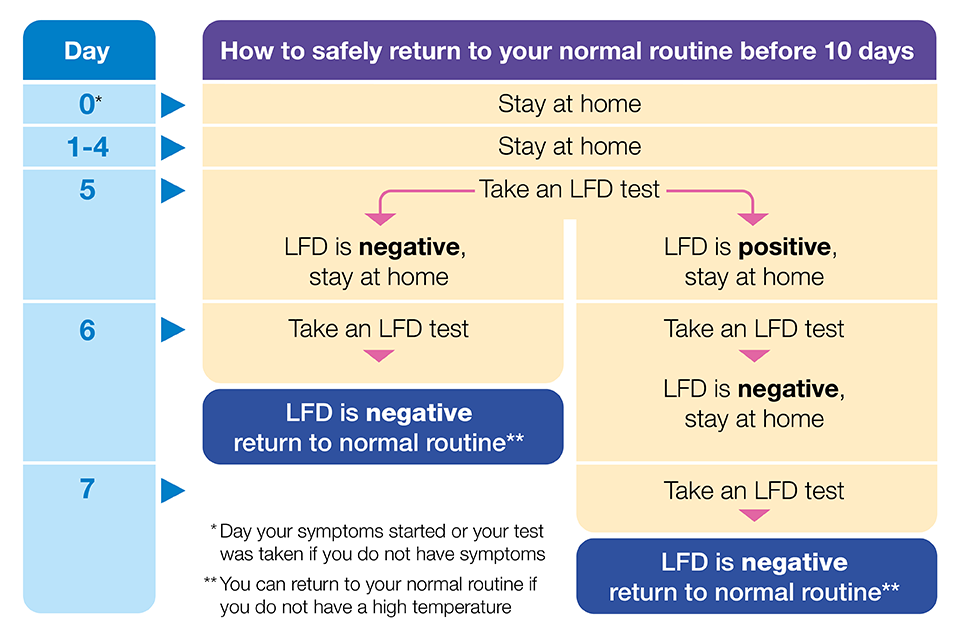 For guidance on how to complete the LFD tests at home:
If you insist on your child attending nursery, school, or college when they have symptoms, we can take the decision to refuse your child if, in our reasonable judgement, it is necessary to protect other pupils and staff from possible infection with COVID-19.
Home Testing Comes to an end
Asymptomatic testing has now come to an end.
From 21 February, staff and pupils in mainstream secondary schools will not be expected to continue taking part in regular asymptomatic testing and should follow asymptomatic testing advice for the general population. Further information is available in the NHS 'get tested for COVID-19' guidance.
OUTBREAK MANAGEMENT PLAN
The Academy has a clear plan in the event of a local outbreak and the cases at the Academy and in the community across 6 wards are reviewed weekly with any actions communicated to all stakeholders in a timely manner.