I hope you and your family are well. It's 'Respect' week at JQA and this gives us a chance to re-fresh the 'gold standards' at the Academy. May I remind all parents/carers to ensure their child has the items of uniform that are mandatory: the JQA blazer, the gold tie and black shoes. Our uniform policy is clear and online.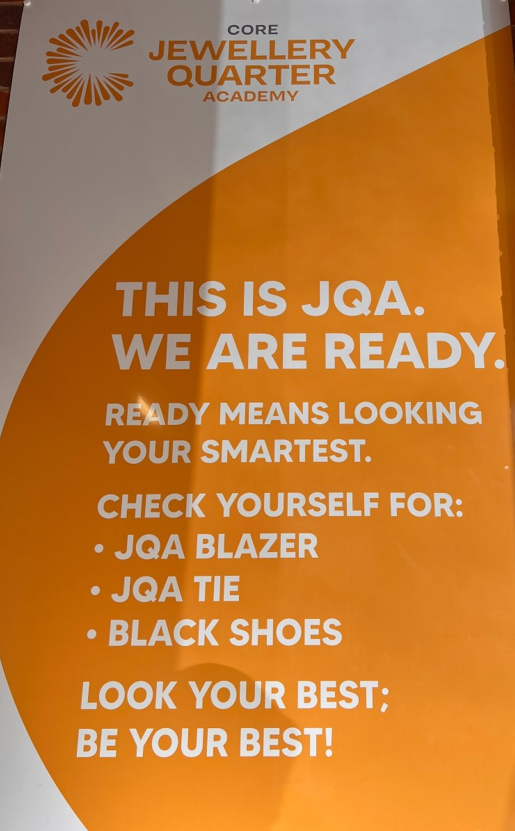 Blazers must be worn at all times. With extreme weather predicted this week, I will review this and text parents and notify students using the app if we relax this rule due to heat. I would also remind parents to ensure their child has a water bottle so they can remain hydrated at one of the fountains that Student Parliament successfully campaigned for.
We have created a short ten-minute video on supporting your child with 'routines for success'. It's important all parents/carers understand the learning habits we expect from our students.
Year 11 are into the 'home straight' now of their journey with us. Revision morning masterclasses are taking place all week for them with free breakfast in the Refectory. Today, we had Maths led by Mr Nisar and we also have Geography, History and Science as well as a range of other exams. Parents should make sure they are aware of which exams are on which days, support their child to revise and also ensure they get here early and are ready. We have some very important assessments coming up for Years 7-10, beginning next Monday 20th June and I will shortly be sharing a letter about these.
Our partnership with Gordon Franks training is helping our students in Year 10 to have conversations about which careers they might want to take up after JQA – and indeed how to get there. We are excited about the processes to appoint new Student Leaders in Year 10 who will lead the Parliament as prefects and Head Students in 2022/23.
Last week, we worked with a representative from BEP to start training Mental Health Ambassadors at the Academy. We have also been given 10 tickets for students to attend the Wimbledon tennis tournament from our partnership with Lawn Tennis Association.
Year 7 students are working with the CraftSpace organisation on Friday to be part of a project to design gifts for the nearly 5000 athletes from across the Commonwealth who will take part in Birmingham 22. Be sure to check out our socials for some great designs!
We are busy preparing for Sports Day which will be held at Tipton stadium this year on 19th July. Many of our students will be competing and some of our students will be spectating. Those remaining at JQA will have a day themed around the Commonwealth Games with some 'hometown heroes' joining our activities on site.
We do expect your child to attend every day and it is important Year 11 students attend for every exam – they will not have a second chance to do these public examinations if they are late or absent.
As always, please call us on 0121 729 7220, leaving a message if lines are busy, and we will support you.
You can always contact me directly at: [email protected]